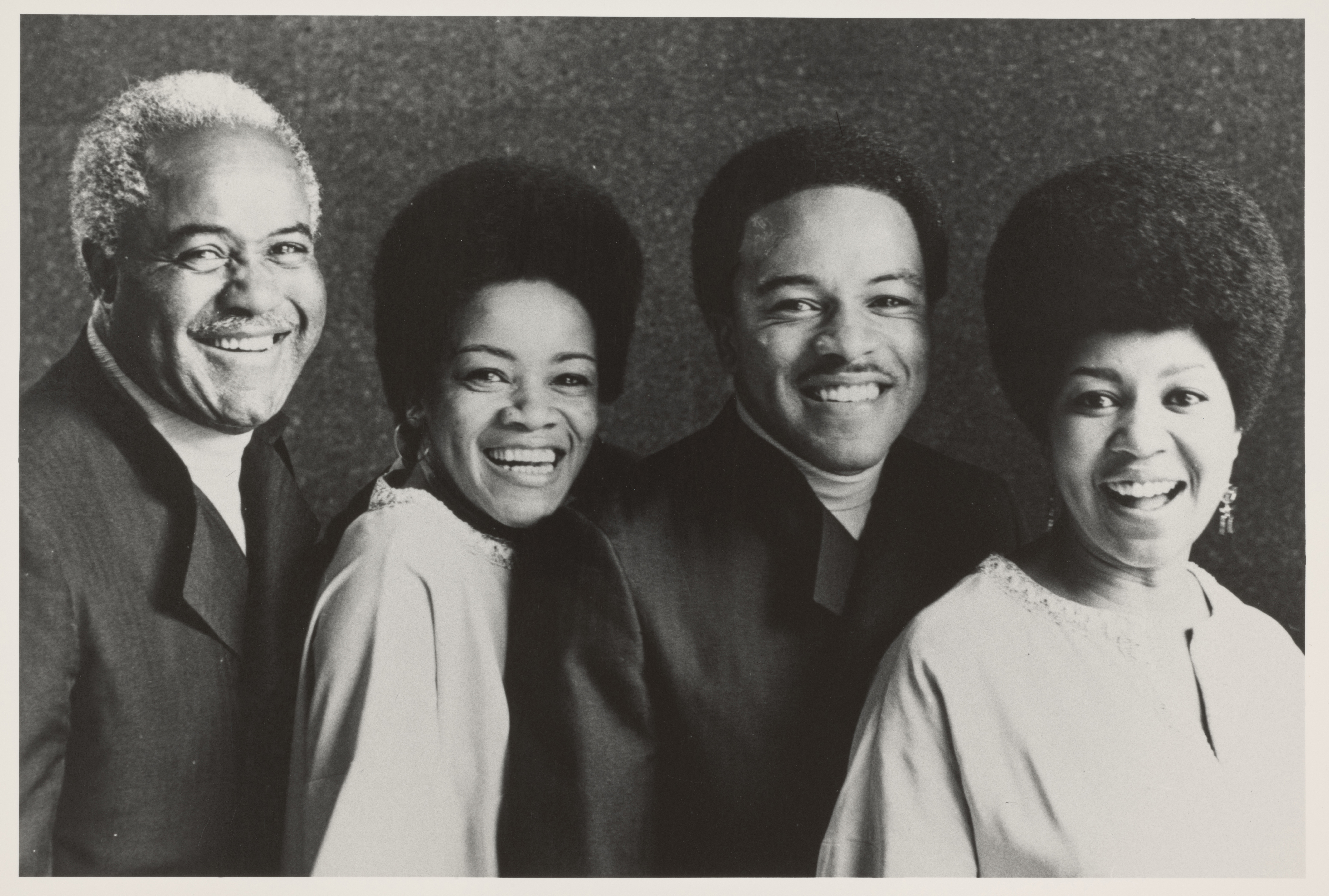 In ways that few gospel-based groups could have imagined, the music of the Staple Singers broke barriers of genre and popularity, first with folk-leaning songs that amplified the message of the Civil Rights Movement in the mid-1960s, and then with a string of soul-oriented Top Forty and Rhythm and Blues hits in the 1970s. Their crowning achievement of that era, and one of the most enduring albums released by Memphis-based Stax Records, is Be Altitude: Respect Yourself.
The group came together in Chicago when Roebuck "Pops" Staples and his young children—Cleotha, Mavis, Pervis, and Yvonne—began performing at local gospel shows. A signature sound was Pops' bluesy and tremolo-laden guitar, a legacy of his "country" roots in the Mississippi Delta. They secured a recording deal with Vee-Jay Records and soon had a major gospel hit, in 1956, with "Uncloudy Day." Lead vocals on their recordings were usually shared by Pops and Mavis, whose husky contralto has proven to be one of the most enduring voices in American music.
In the 1960s, the Staple Singers often performed at rallies with the Rev. Dr. Martin Luther King Jr., playing songs such as Bob Dylan's "Blowing in the Wind," and Pops' original compositions like "Why (Am I Treated So Bad)." "That came to be Dr. King's favorite," Mavistold National Public Radio. Then, they made a bold transition, signing with Stax, and making records that fully embraced the modern Southern soul style.
Unlike many popular artists with gospel roots, the Staple Singers never "crossed over" all the way, almost always choosing songs with positive or spiritual messages. Such is the case with "Respect Yourself," written by R&B stalwarts Luther Ingram and Sir Mack Rice as an affirmation of Black pride. "I'll Take You There," the number one Billboard pop hit that followed, promises a sort of utopia where "ain't nobody worried," even if Mavis's sensual vocal might lead the listener to wonder which kind of paradise it might actually be.
Be Altitude: Respect Yourself, with backing by the Muscle Shoals rhythm section, reflects a golden era of recording, when emerging multi-track technology enabled produce Al Bell to capture live performances, and then to overdub The Memphis Horns, along with additional vocals and instrumental sounds. It is a masterpiece.
RECOMMENDED READING 
DEEP CUTS WE LOVE…
"I'll Take You There" - At the time of these sessions, producer All Bell had recently traveled to the Caribbean, bringing back several reggae records. Thus, the introduction and melodic bass line for "I'll Take You There" were borrowed from "The Liquidator" by the Harry J All Stars. Muscle Shoals bassist David Hood plays the part with authority, but the band does not play a typical reggae groove, instead finding an even slinkier pocket. The same bass motif was subsequently copied by Louisiana zydeco artist Rockin' Sidney for his popular "Joy to the South."
"Name the Missing Word" - With its bluesy introduction and deep, reggae-influenced groove, "Name the Missing Word" is a vocal tour-de-force for Mavis, who delivers the song as an impassioned sermon, especially as the backing vocals urge her to "say it" as the song vamps out (although she never does say the word). The song was written by the "We Three" team of Homer Banks, Bettye Crutcher and Raymond Jackson, who were also responsible for hits such as Johnny Taylor's "Who's Making Love."
"We the People" - Written by Booker T. Jones (of Booker T and the MGs) and Carl Smith, "We the People" had a surprising reprisal in 2020, when it was used after President Joe Biden's closing speech at the Democratic National Convention. With its instantly singable chorus and message of racial unity (along with the cautionary line, "Hot pants in style, don't let our world go wild.") set against an uplifting groove, there could have been no better song choice.
DID YOU KNOW?
In the 1960s, Bob Dylan proposed to Mavis Staples, but she turned him down. The two had become an item for a brief period, after getting to know one another at several Newport Folk Festivals and other events. They won a GRAMMY® together in 2003 for "Gonna Change My Way of Thinking," and toured together (each with their own band) in 2016.

Producer Al Bell's assistant and mixing engineer on Be Altitude: Respect Yourself was Terry Manning, who later engineered albums by artists such as Z.Z. Top and George Thorogood, among many others. In 1992, he became Island Records founder Chris Blackwell's partner in the highly-regarded Compass Point Studios in Nassau, Bahamas. Terry played the Moog synthesizer overdub on "Respect Yourself."

After the Staple Singers stopped performing as a group in the 1980s, it was not only Mavis who continued recording. While in his late seventies, Pops Staples made two highly-regarded albums on which his guitar playing again assumed a more prominent role. On most of the Stax sessions, the guitars were played by studio musicians such as Steve Cropper, Jimmy Johnson, and Eddie Hinton.
Listen to Be Altitude: Respect Yourself in its entirety on your preferred streaming platform or purchase on wax below.  
Words: Scott Billington